News & Events
Brandy Bottom
The AIBT would like to thank the Ibstock Enovert Trust for their grant of £15 000, and the Enovert Community Trust for one of £41 000. Specialist contractors are currently working on the fabric of the buildings in both the Old and the New Pits. When finished the stabilisation phase of the project will be complete.
A 'Friends of Brandy Bottom' newsletter (No 27) was published in May 2020.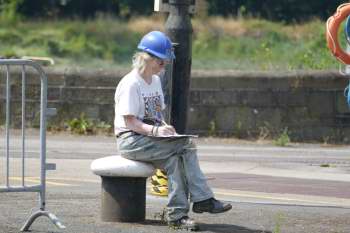 Visitor Access to Brandy Bottom
At present there is no visitor access to Brandy Bottom, but there are plans to open to visitors on 12 and 13 September as part of the Heritage Open Days scheme.
Brunel's Other Bridge
Photo bottom right: Visitor survey in progress at BOB, July 2018.
Work Parties at Brunel's Other Bridge
There are currently no work parties at Brunel's Other Bridge. The site is scheduled to be open on 12 September as part of the Bristol Open Doors scheme. There will be a work party on Saturday 29 August to prepare the site for opening, and the next one after that will be on Saturday 26 September.
Page updated: 10 Jul 20